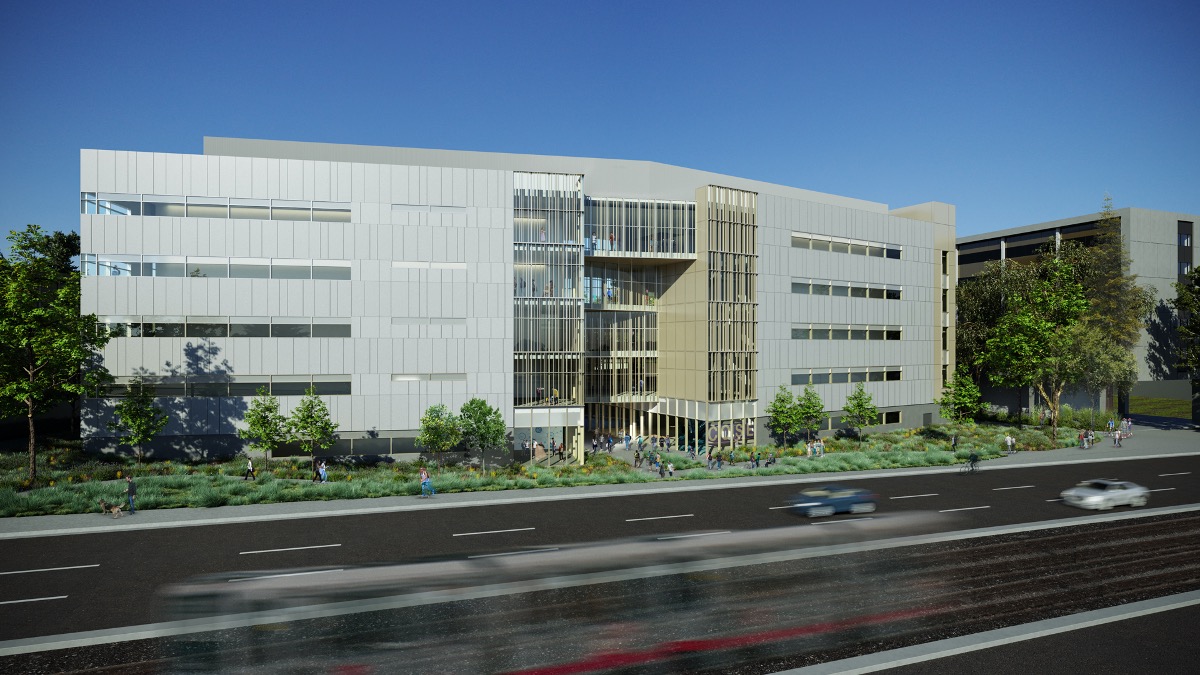 Serving as a highly visible main entrance from the community to the University, the Science & Engineering Innovation Center will feature signage fronting 19th Avenue, a busy corridor which leads to Silicon Valley and the Bioscience hub to the south of San Francisco. The Center's high profile will help to brand CoSE as a major outlet of science and engineering study, and a driver in the area's science and engineering fields.
The Science & Engineering Innovation Center will be an accessible facility that serves all 7,000 CoSE majors, and hundreds of general education students each year. 
Newly constructed 125,000 square foot building
Reconstruction of existing adjacent 54,000 square foot building
Department of Chemistry & Biochemistry labs, classrooms, and offices
School of Engineering labs, classrooms, and offices
Student Success Center
Student Enrichment Office
CoSE dean's offices
What's In the Science & Engineering Innovation Center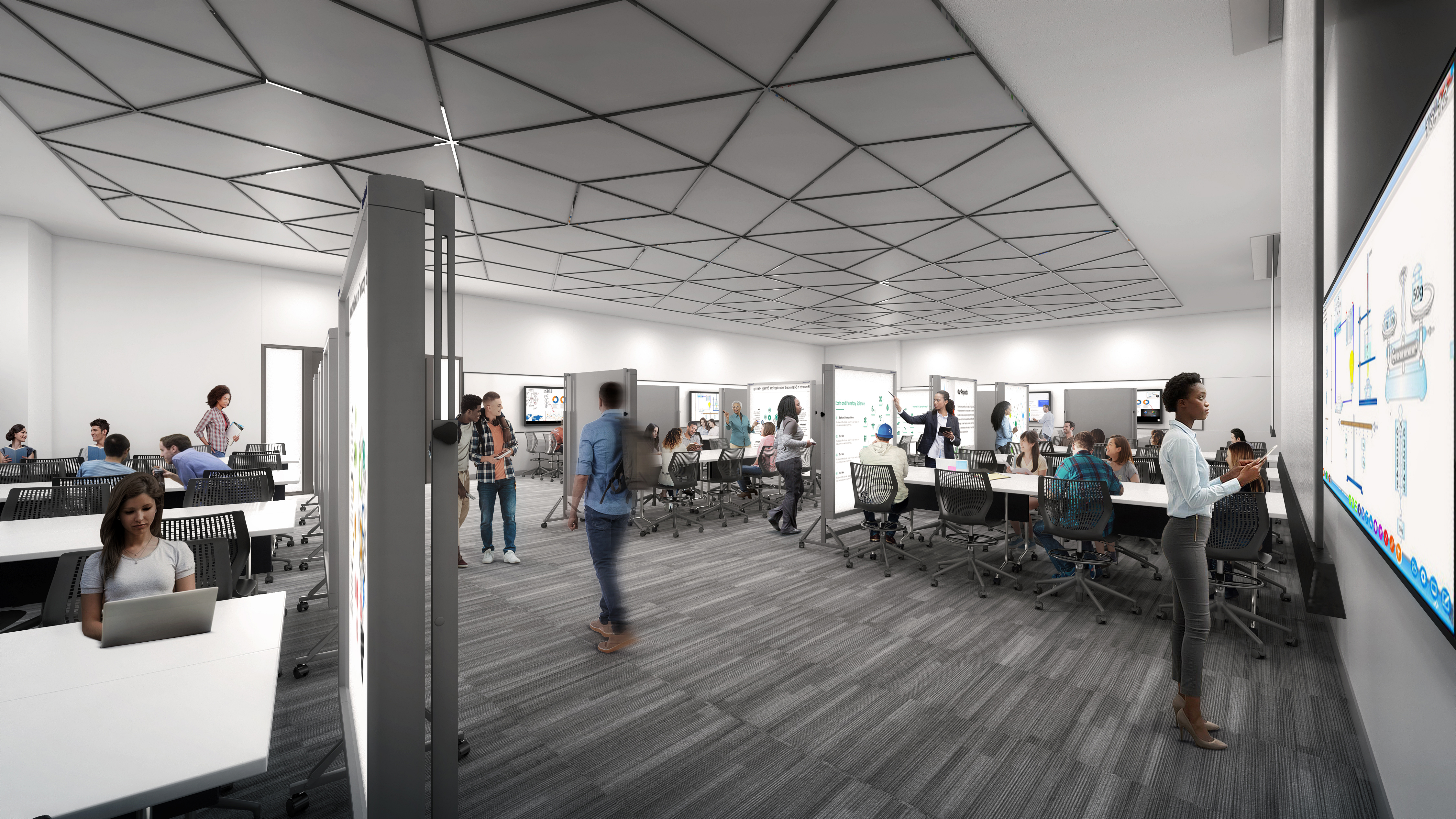 The configurable lecture hall on the first floor of the new building will facilitate innovative and interactive lectures and classes split out into groups. The AV system will allow each group to respond and follow to faculty teaching.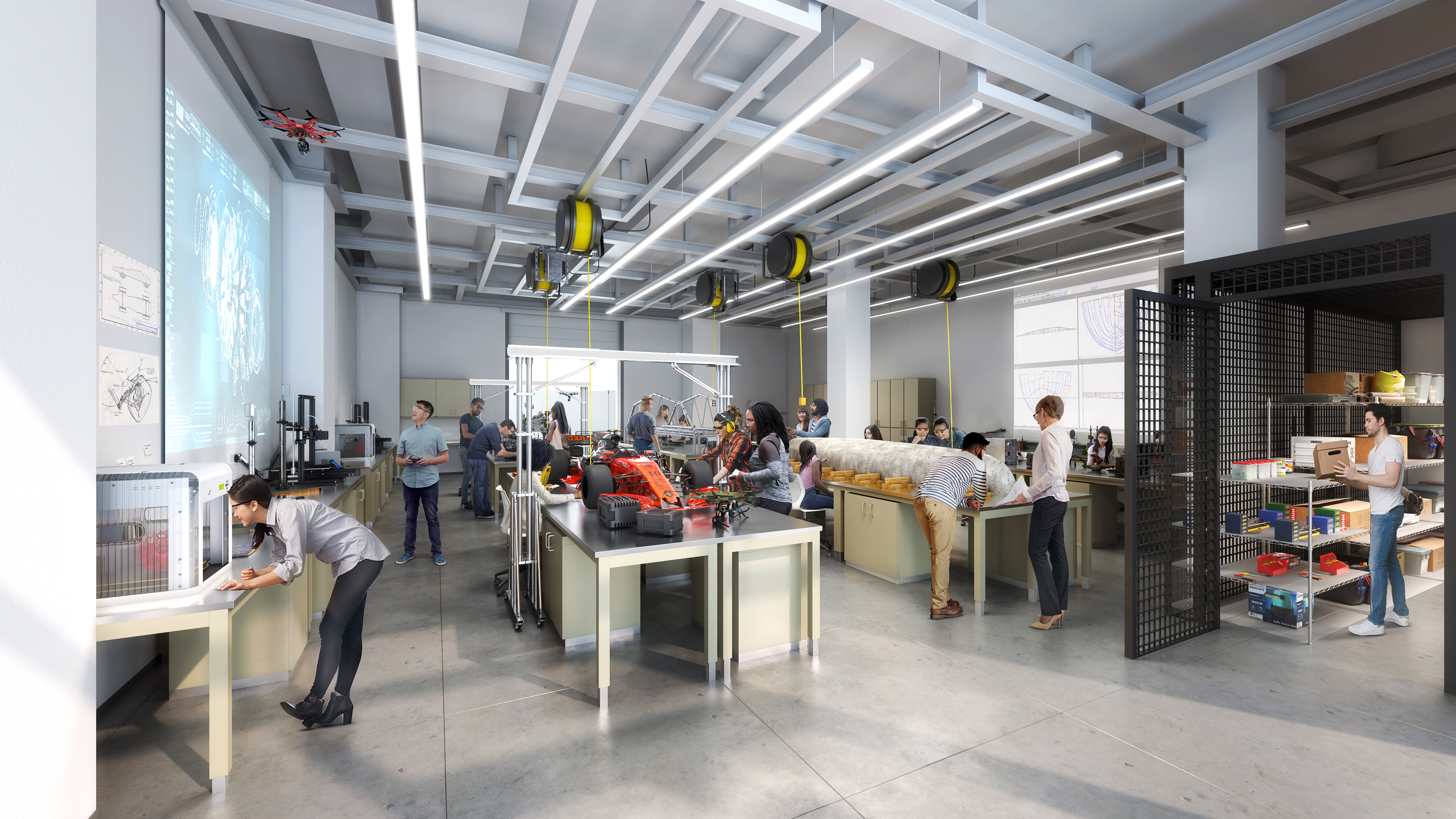 Students prototyping engineering projects in the Large Garage (Room 120), including concrete canoe, Formula 1 SAE racecar, steel bridge, flying drones, and assistive technologies.
The first floor of the Science & Engineering Innovation Center features two "garage" makerspaces and a machine shop. Together, these three spaces will support students in team problem-solving, final project and prototype construction, and real-world engineering experiences. For many CoSE students, these spaces will be their first experience working in creative makerspaces.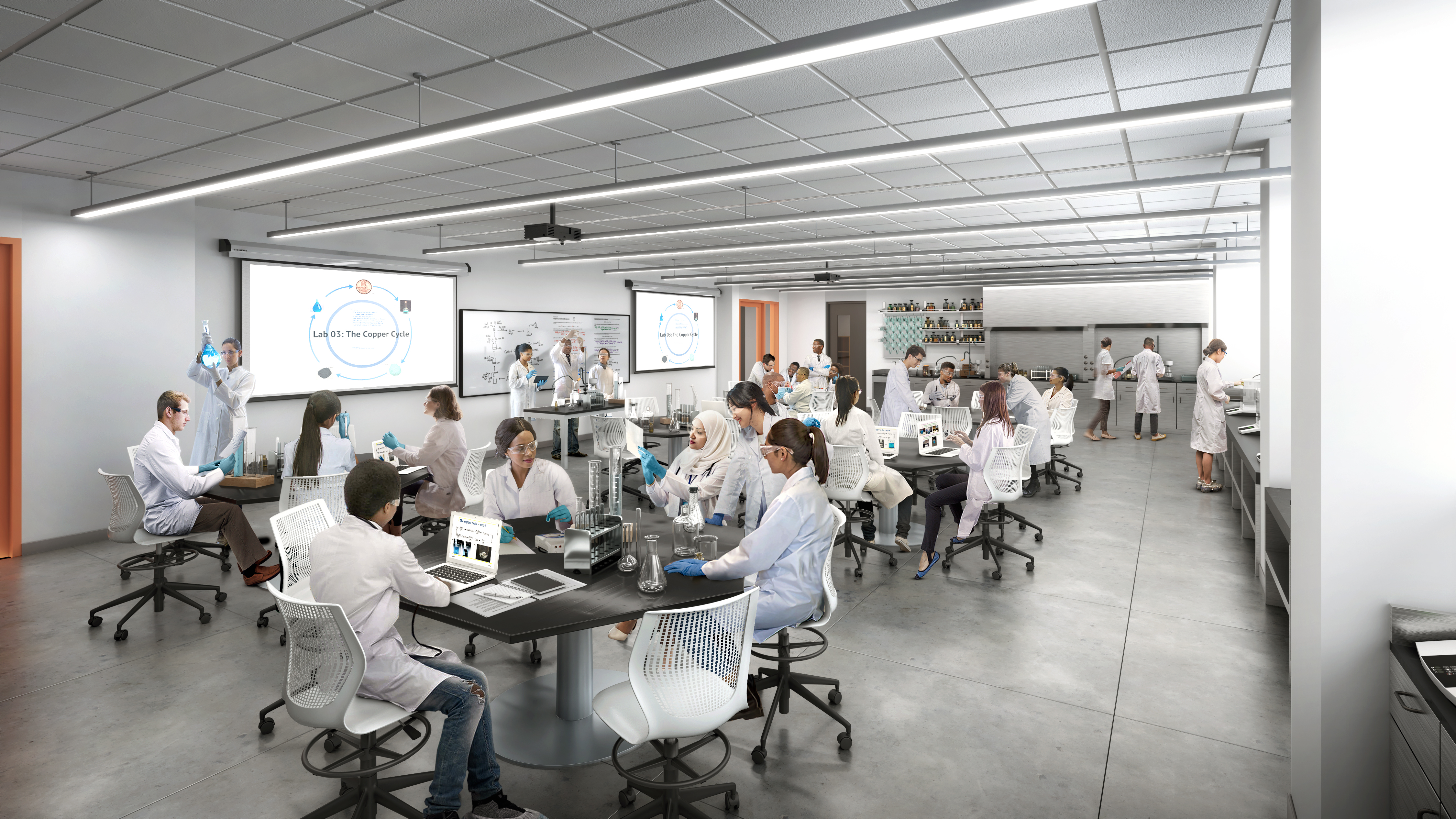 The Science & Engineering Innovation Center will feature three studio-style integrated lecture/lab chemistry classrooms totaling 5,069 sq. ft. These spaces will be a total learning environment with audio-visual systems connecting student workspaces to teaching stations, configurable work stations to accommodate team learning, and integrated research and lecture labs.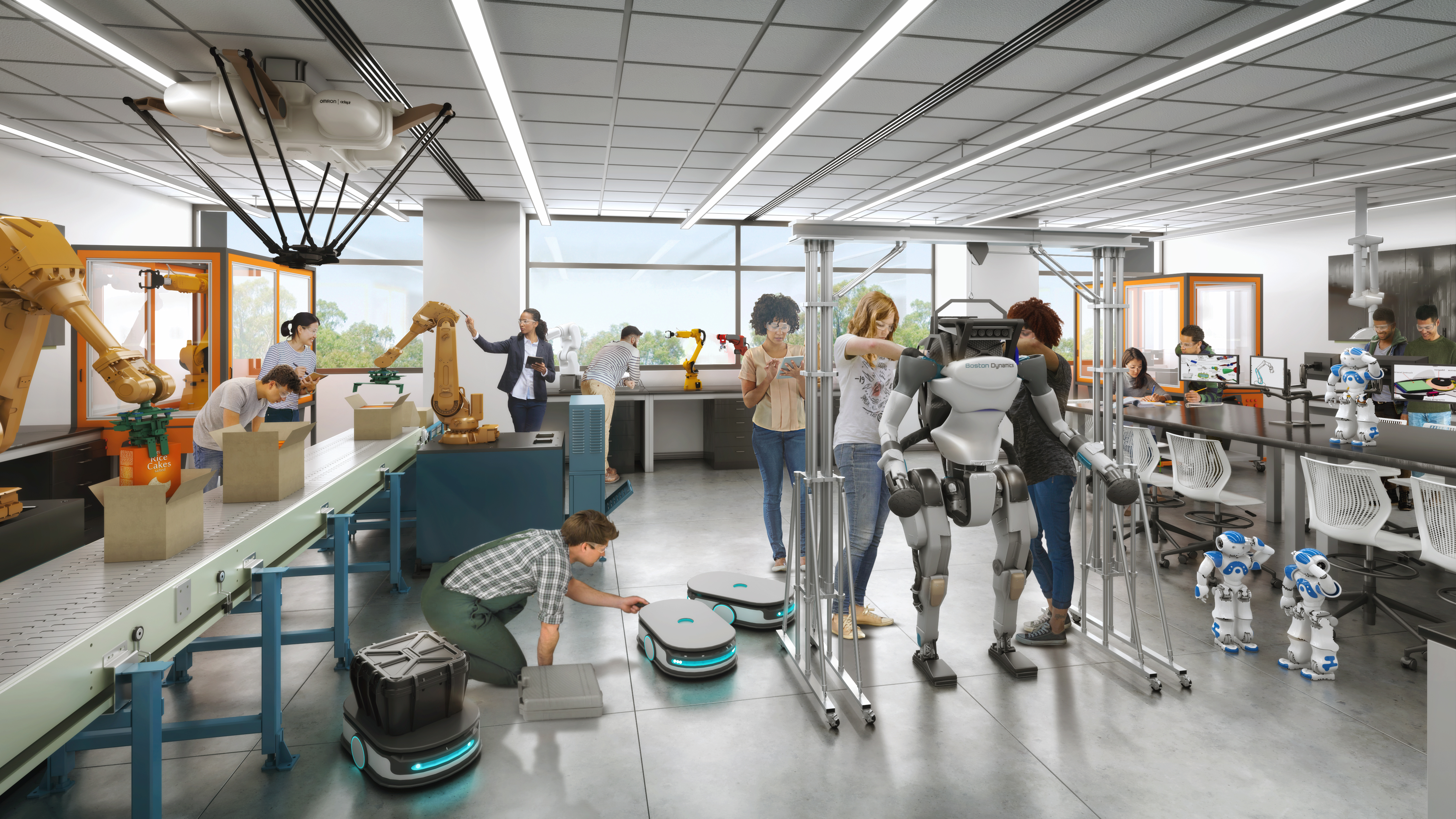 The Robotics and Mechatronics Lab will be the first on campus and will enable the offering of interdisciplinary and industry-relevant robotics, mechatronics, and controls curricula. The lab will also be used by faculty in research, including rehabilitative robots for use in healthcare, human-centric automation, and mechatronics engineering.
ENGINEERING FACILITIES IN THE SCIENCE & ENGINEERING INNOVATION CENTER - 1st & 3rd Floors
State-of-the-art makerspaces and machine shop provide opportunities for students to bring their projects from concepts to actual prototypes
Applied Project Space with strong wall, strong floor, and large shake tables for advanced structural and seismic testing
Energy Systems Lab feature an engine testing area, a reconfigurable HVAC training system, and advanced energy technologies
Fluids and Process Control Lab equipped with aero and fluid dynamics test systems, and state-of-the-art process control systems
Ten instructional labs for integrated, project-based hands-on learning based on industry-relevant curricula that include Robotics and Mechatronics Lab, Soil and Surveying Lab, Embedded Systems Lab, Analog and Digital Electronics Lab, Structural Dynamics Lab, Freshmen Design Lab, and Materials Processing and Characterization Lab
Faculty research labs with a diverse research agenda spanning transportation modeling, energy systems, cyber-physical systems, semiconductor testing and manufacturing, hazards mitigation, robotics and biomechatronics, intelligent and network computing, smart structures, complex fluids, structural modeling, engineering education, and materials engineering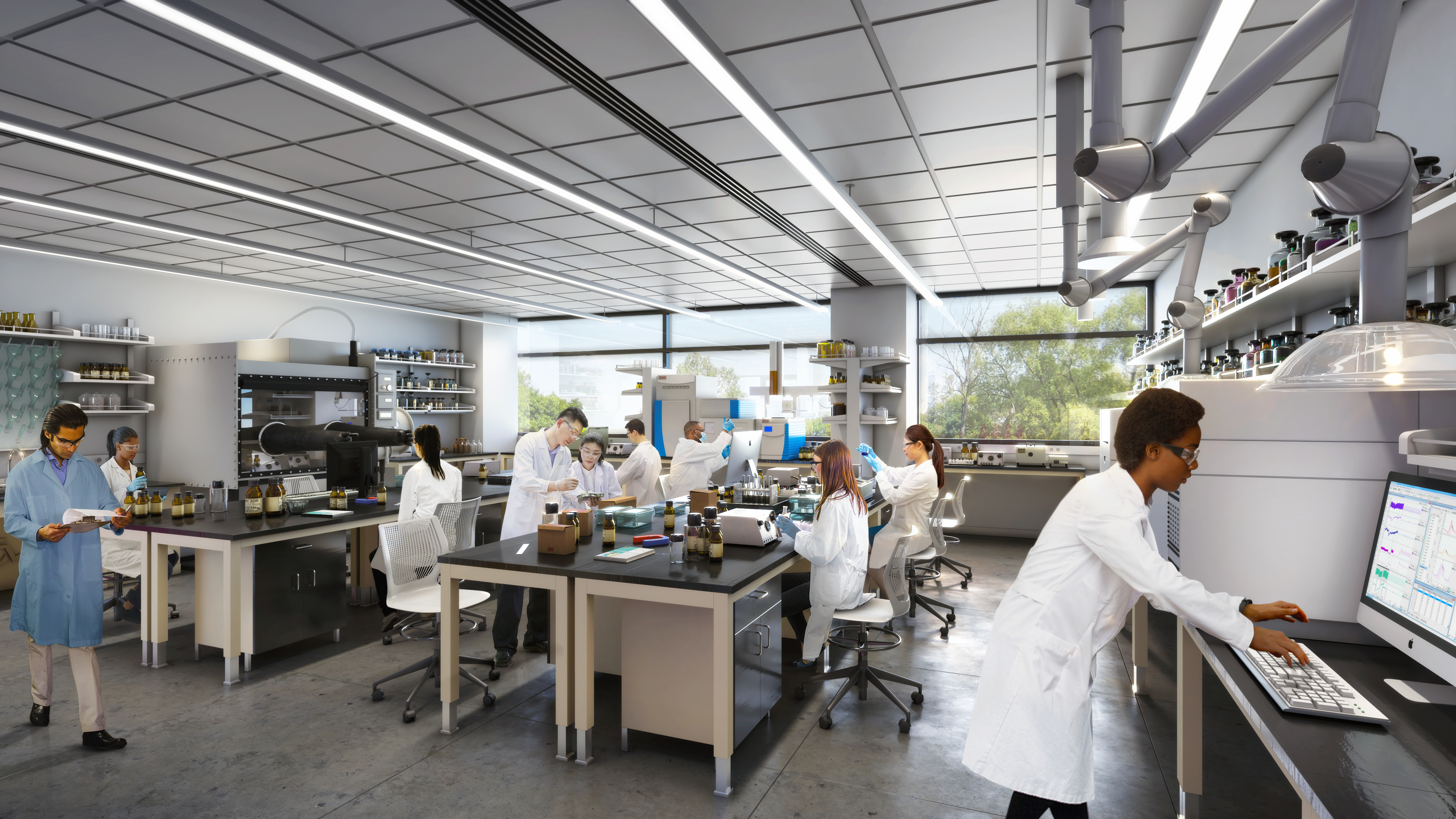 The Physical Chemistry and Chromatography Lab will house two mass spectrometers (at right and at rear). This equipment will be used for a multitude of research projects throughout the Chemistry & Biochemistry Department.
CHEMISTRY FACILITIES IN THE SCIENCE & ENGINEERING INNOVATION CENTER - 1st & 2nd Floors
Biochemistry research labs with instrumentation rooms
Protein crystallography – an new experimental capability for SF State
Cold room & culture support spaces for advanced study of macromolecules
Quantitative teaching lab for physical chemistry, inorganic chemistry, quantitative analysis, with embedded classrooms for training students in fundamental chemistry
Chromatography Lab for purification and analysis of small and large molecules
Department seminar room and studio teaching rooms (700-1000 students/semester)
Computational, Organic, Analytic, and Bio-organic Chemistry research labs
Materials and Nanochemistry Lab, Biophysical Chemistry Laser Lab for high-speed chemistry
Biochemistry Teaching Lab (in the legacy building)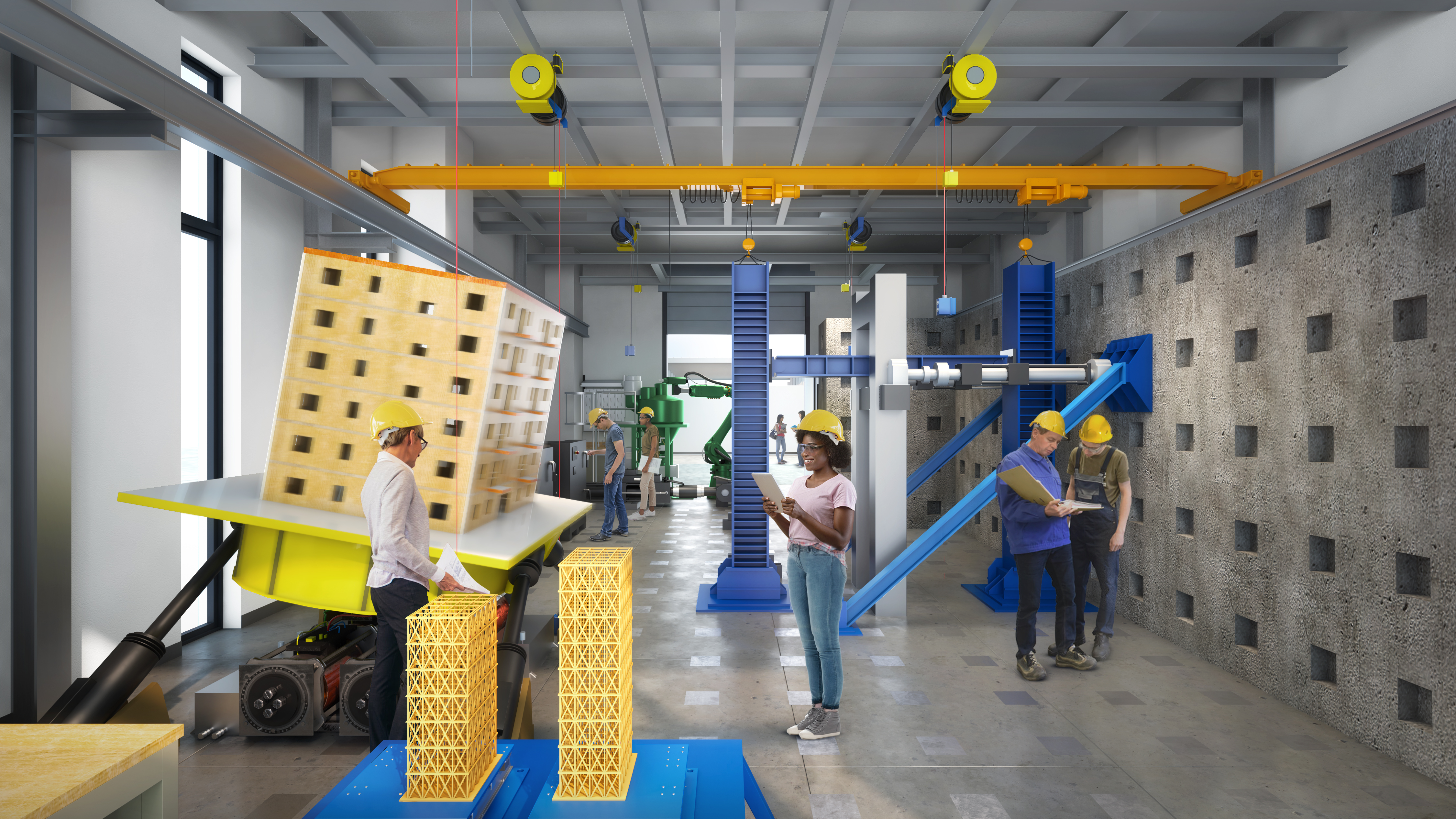 ENGINEERING APPLIED PROJECT SPACE | The state-of-the-art Applied Project Space (APS) will advance education in structural dynamics, advanced experimental testing, structural control and monitoring, fire safety engineering, and smart structure technologies. It will feature a strong wall (at right) and a two-foot-deep strong floor for investigating earthquake preparedness, and structural integrity.
APS impacts over 400 undergraduate students yearly in various fundamental core courses in Engineering including Dynamics, Engineering Experimentation, Structural Analysis, Reinforced Concrete Structures, Steel Structures, Wood Structures, and the senior capstone design. It also will support our student competition teams that take part in concrete canoe, steel bridge, EERI seismic design, the NASA RASC-AL, among others. APS also serves as a crucial resource for our graduate students in their research.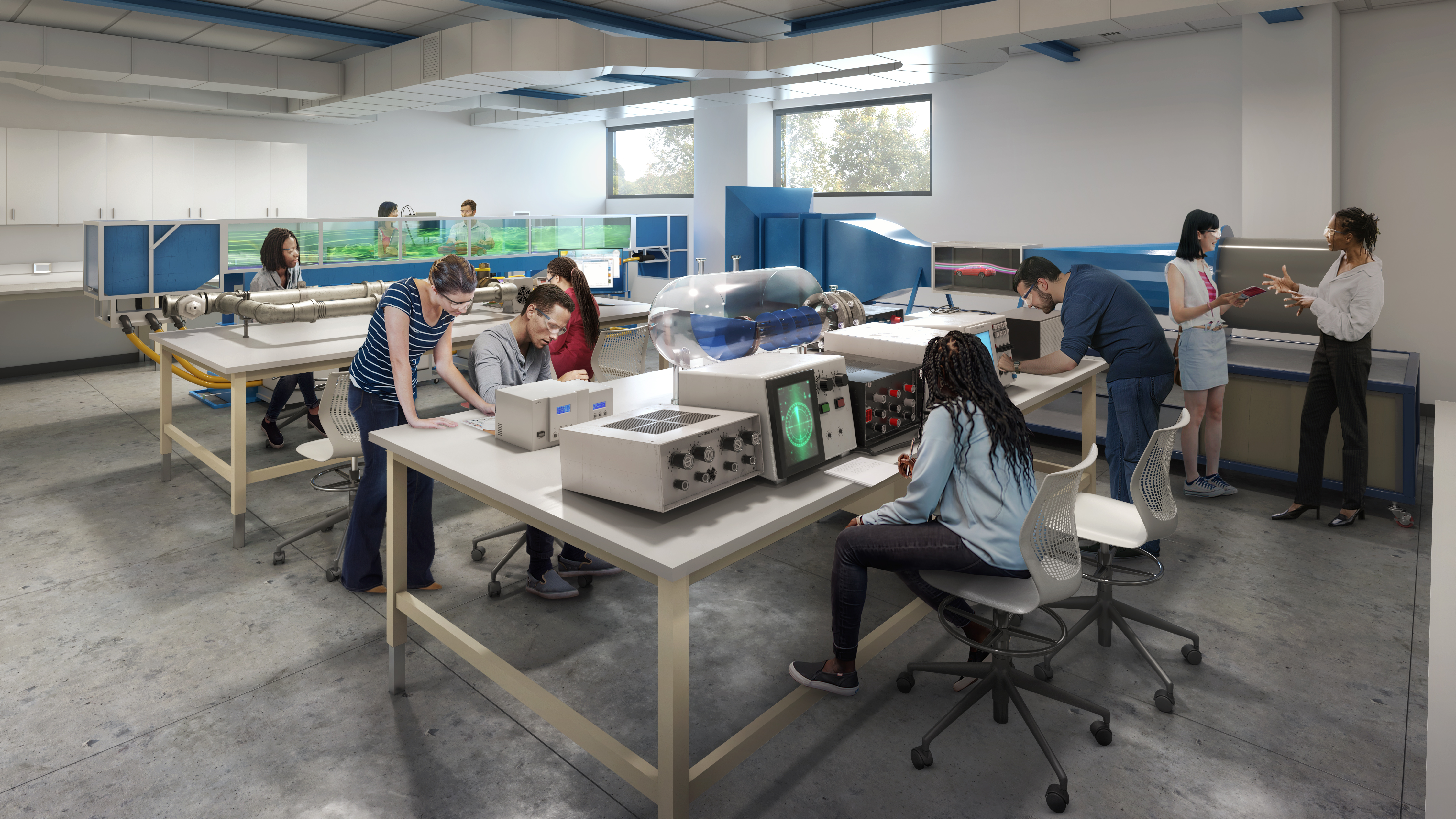 ENGINEERING FLUIDS AND PROCESS CONTROL LAB | The Fluids and Process Controls Laboratory is an instruction laboratory that will serve junior and senior students in civil and mechanical engineering, with a focus on liquid-phase flow and energy conversion and transfer processes. The laboratory will house an open-channel hydraulic flow apparatus, a wind tunnel with particle velocimetry imaging setup, a variable frequency drive (VFD) centrifugal pump and hydraulic turbine experiment, and an HVAC demonstration unit for student training.
The Innovation Center's indoor and outdoor spaces will be welcoming and accessible, enabling a diversity of students to feel that there is a place for them in the science and engineering fields. It will feature a dynamic layout that will enable innovative student/faculty research, adaptability, and collaborative pedagogy, with an emphasis on social interaction, experimentation, collaborative ideation, and team-based learning. Hands-on learning with workplace-relevant technology will prepare graduates for jobs in the sciences and engineering and for pursuing higher STEM degrees.
Coupled with the first-rate teaching from the University's faculty and an ethic of inclusiveness and innovation, the new Innovation Center will revolutionize the way science and engineering are taught at the college.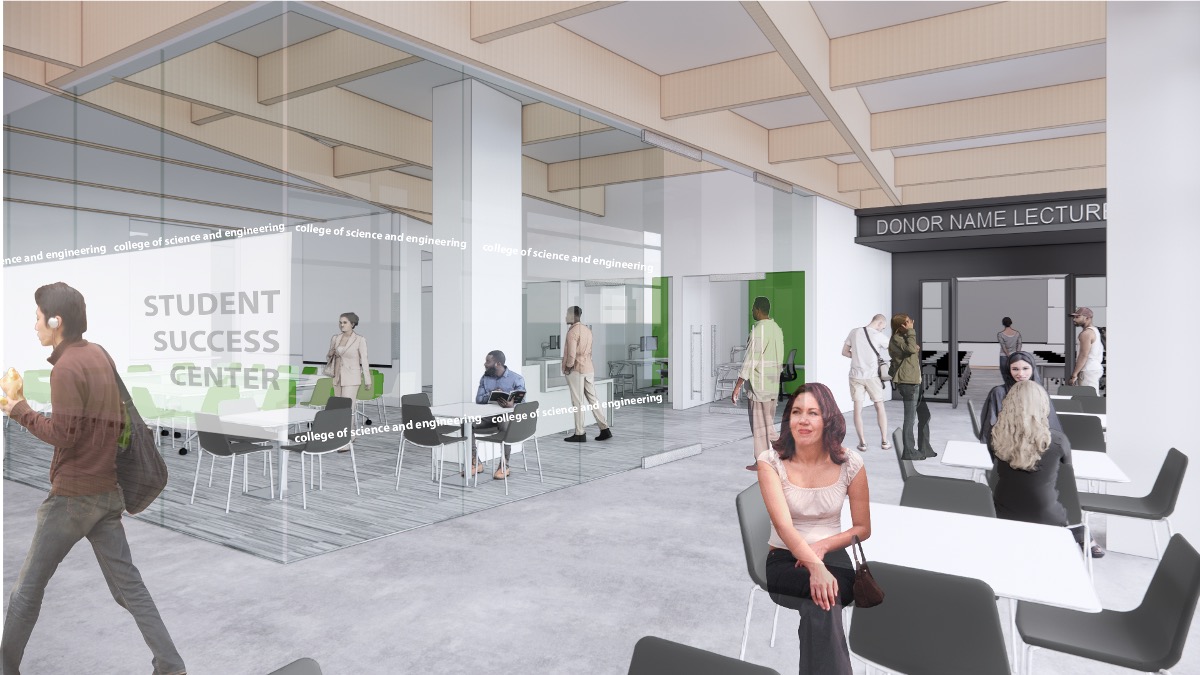 The lobby of the Science and Engineering Innovation Center will feature the Student Success Center, a donor wall, a flexible learning space/auditorium, a coffee bar, and will adjoin the Student Enrichment Office.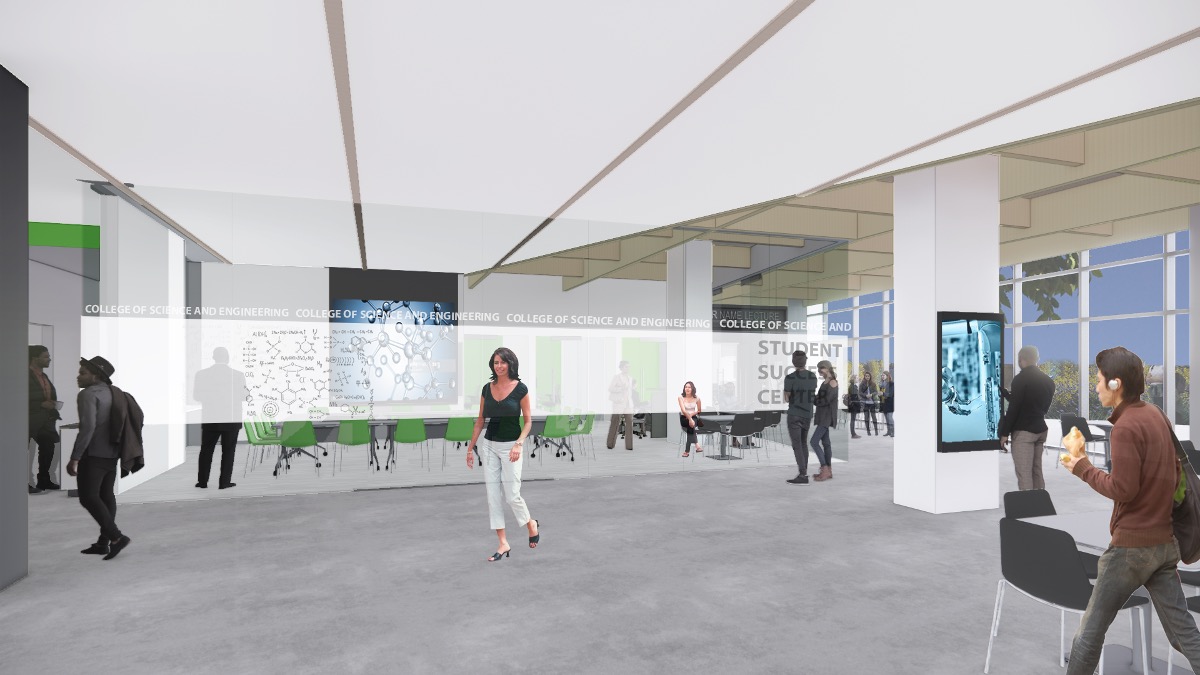 The Student Success Center and Student Enrichment Office will be a centralized hub that will scaffold all CoSE students throughout their SF State journey with tutoring, career guidance, advising, mentorship, grants, and scholarships.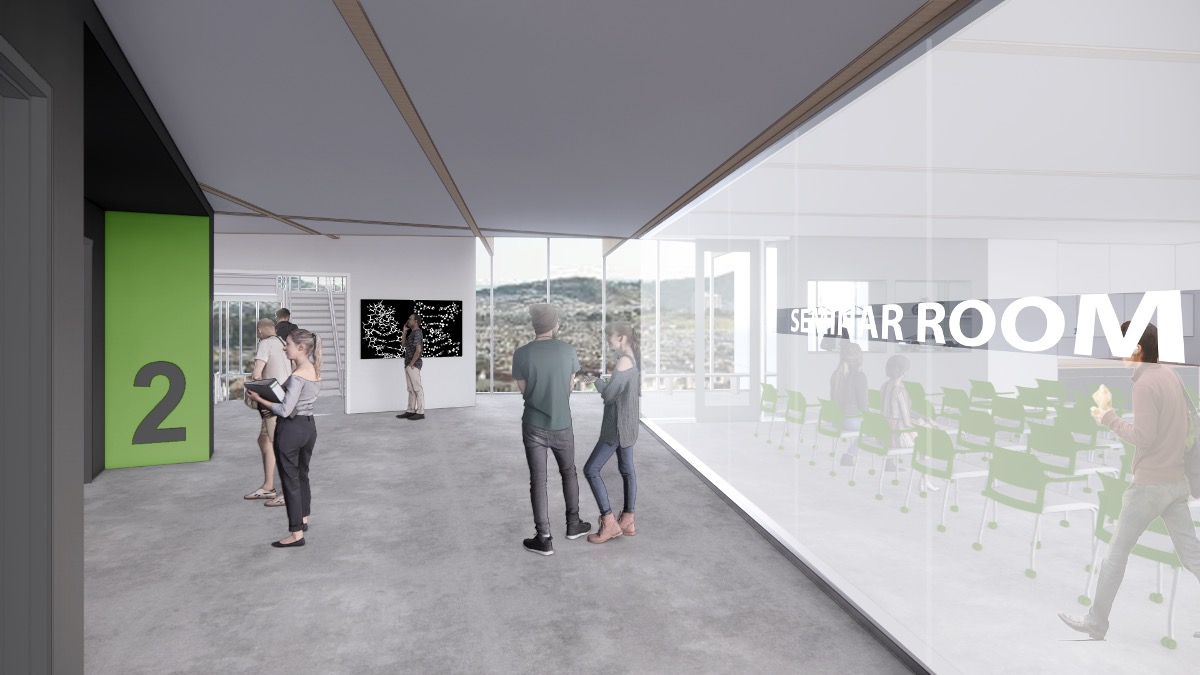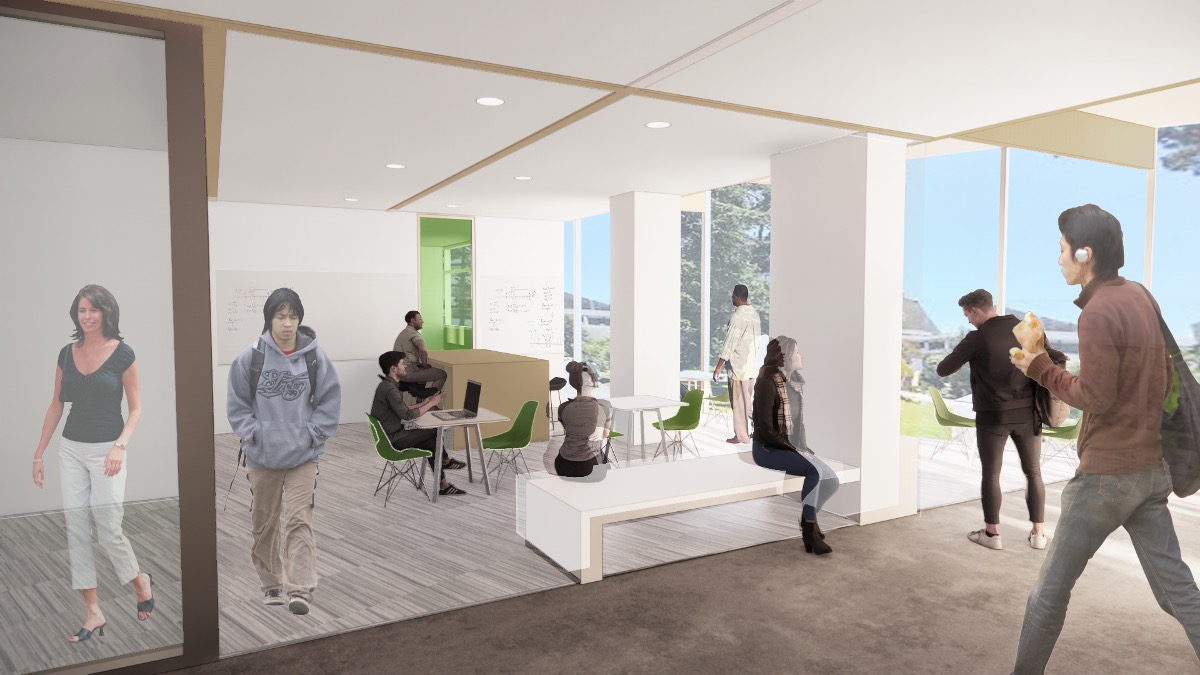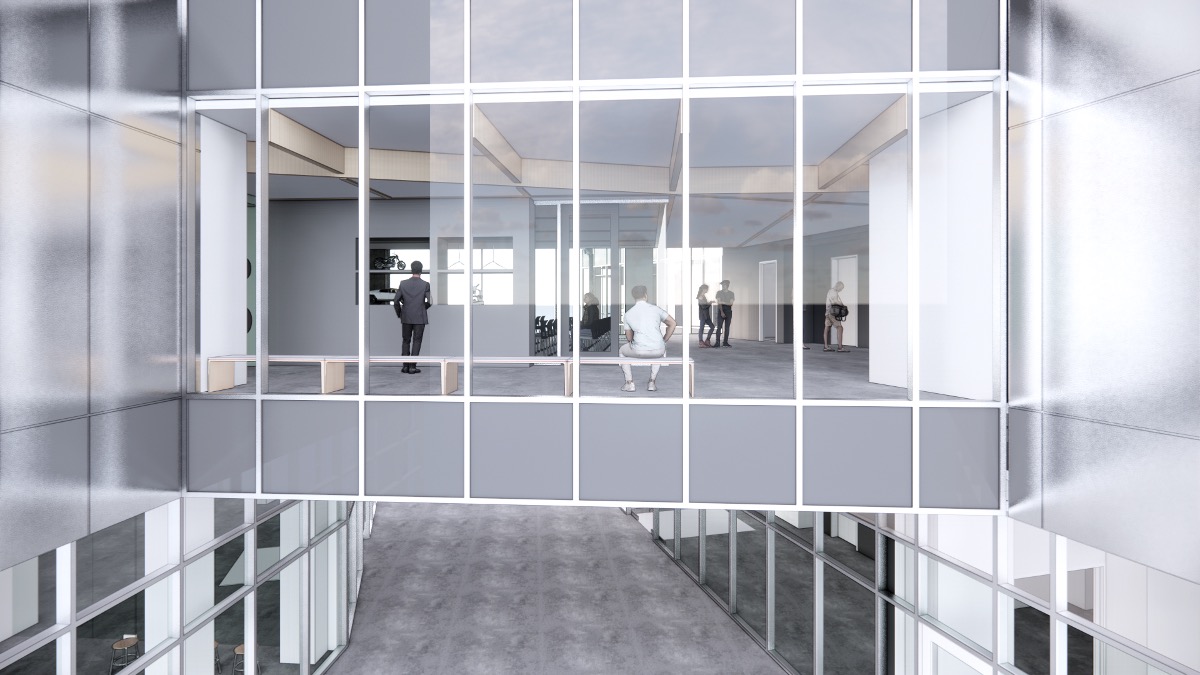 Contact Associate Vice President of University Development Anjali Billa to learn about naming opportunities and to become a donor to the Science & Engineering Innovation Center: anjalibilla@sfsu.edu or (415) 405-3625.