CoSE is comprised of seven science departments and the School of Engineering, and enrolls 7,300 students each year. The college's curriculum is guided by an ethos of "learning by doing" – faculty and students conduct research together on a range of theoretical and applied subjects, with a focus on building workforce-relevant skills. 
CoSE's student population, faculty and staff reflect the demographic diversity of the region, and most key programs are non-impacted, meaning that there are no GPA requirements to enroll.
The college benefits from the abundance of accomplished faculty members who live and work in the Bay Area. Faculty grants and awards include:
National Science Foundation (NSF) has granted 18 of its most prestigious CAREER awards to CoSE faculty, placing SFSU second among the 23 CSUs
60+ grants were awarded to CoSE faculty in 2020-21, totaling $20.3 million
Granting organizations to CoSE research include the NSF, the National Institutes of Health (NIH), the American Chemical Society Petroleum Research Fund, the Department of Energy, and the Department of Defense
Google Faculty-in-Residence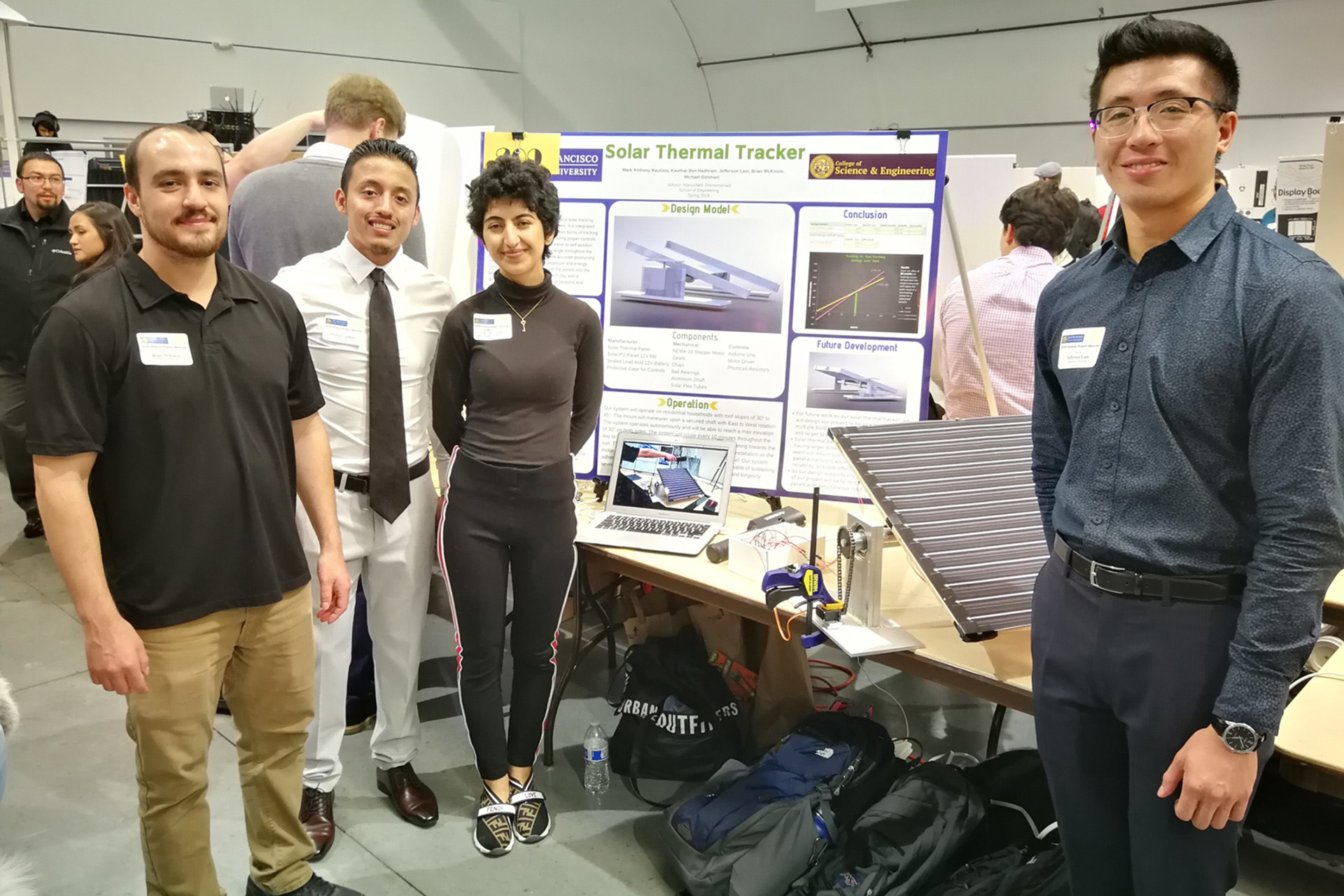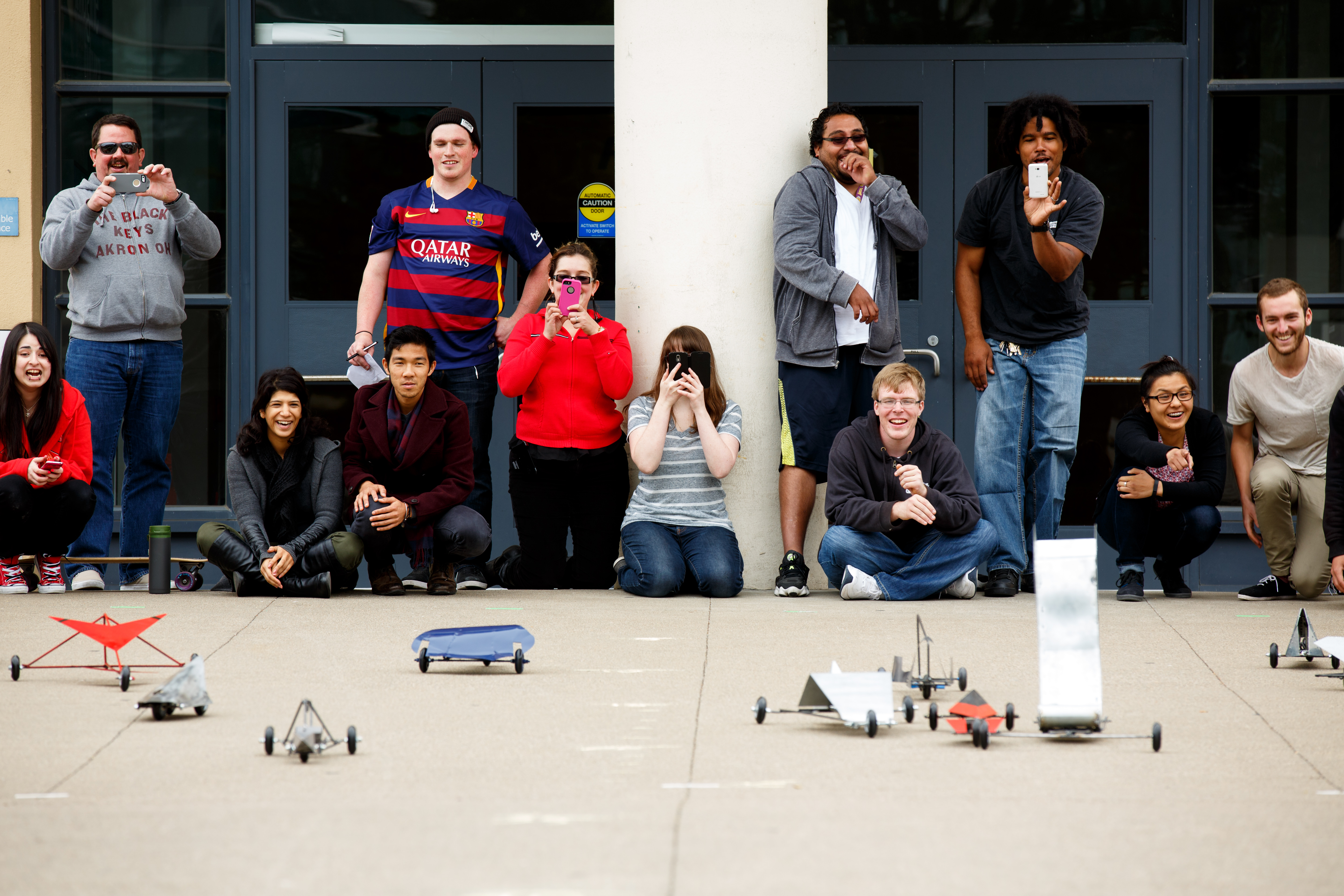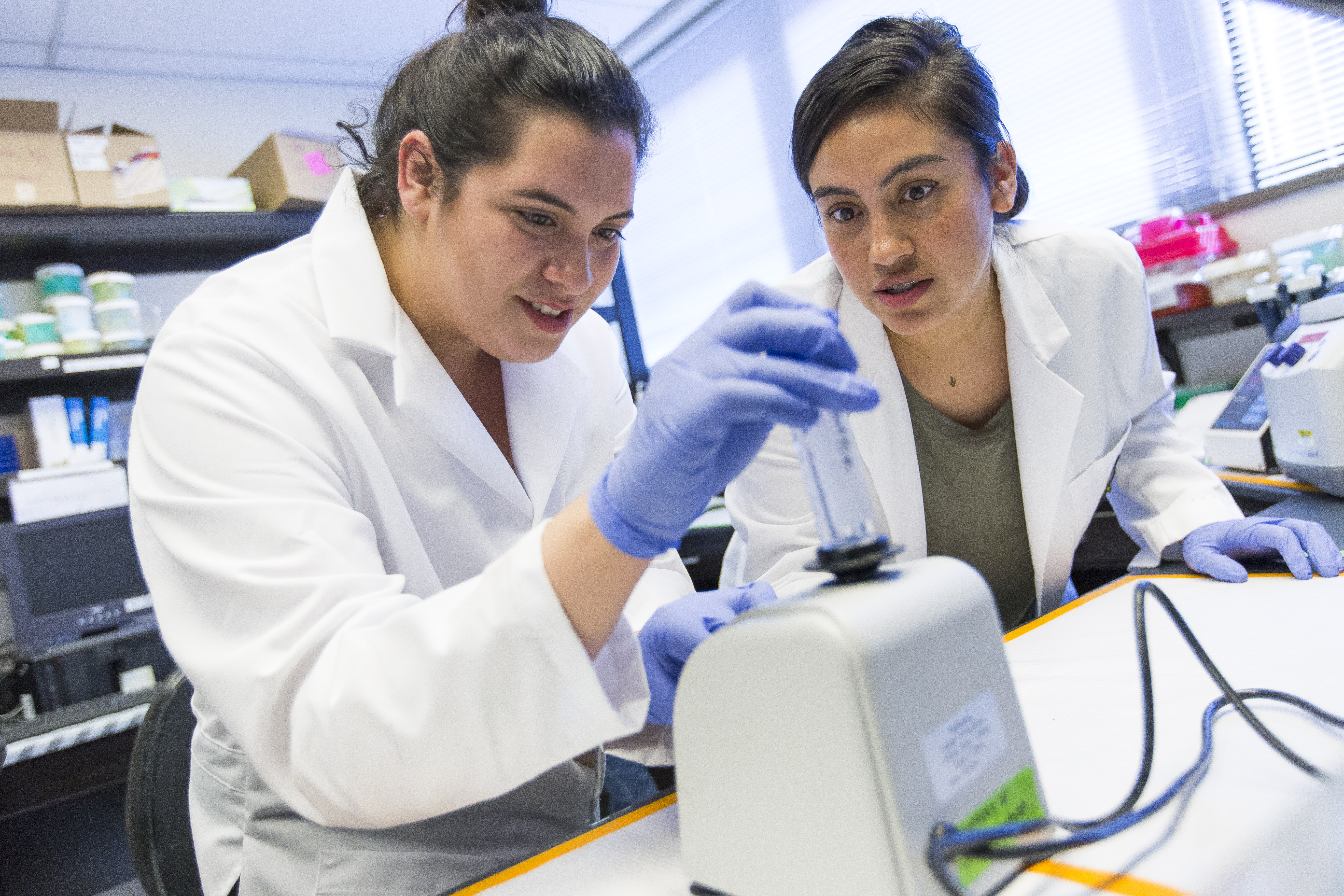 CoSE Alumni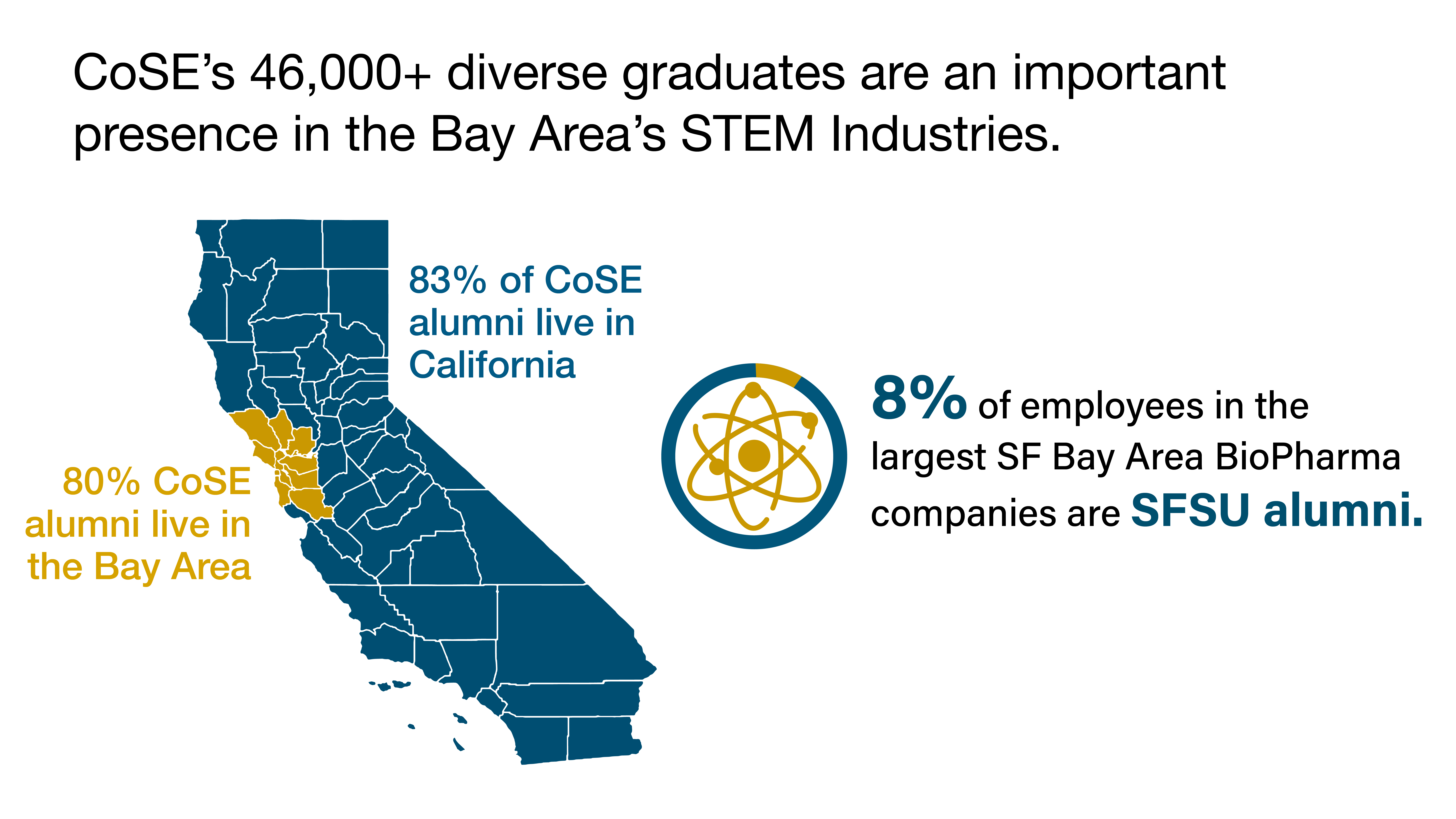 CoSE's 46,000+ alumni are an important presence in the Bay Area's economy and STEM industries. 83% of CoSE alumni live in California and 80% live in the Bay Area. 8% of employees in the largest SF Bay Area biopharma companies are SFSU alumni.
SF State alumni work at Genentech*, Gilead*, BioMarin*, Bayer, Arcus Biosciences, Bristol Meyers Squibb, Roche, Exelixis*, Revance, Ultragenyx*, BeiGene*, Jazz*, Pfizer*, FibroGen, Mirati Therapeutics, NGM Biopharmaceuticals, Merck, among others.
*C-Suite alumni 
Department of Chemistry & Biochemistry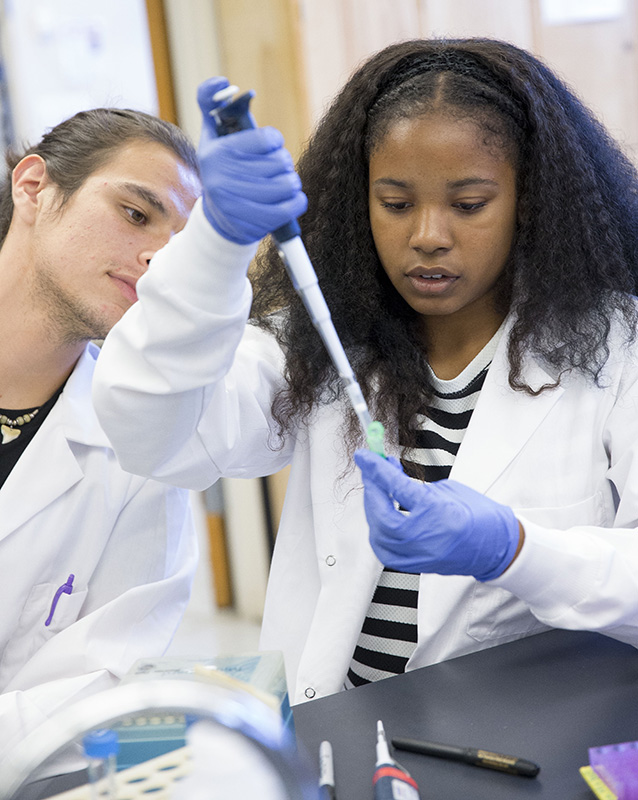 The second and third floors of the new building in the Science & Engineering Innovation Center are dedicated to labs, offices, and classrooms of the Department of Chemistry & Biochemistry.
Thirty-one Chemistry and Biochemistry faculty members teach 400 students a year majoring in chemistry and physical, organic, computational, and materials chemistry, as well as biochemistry. All students in the College of Science & Engineering (CoSE) take at least one chemistry class, and the chemistry labs are used in research projects from all STEM disciplines.
FACULTY PROFILE: Assistant Professor of Chemistry and Biochemistry Misty Kuhn
Student Anjani Pradhananga (left) and Assistant Professor Misty Kuhn (middle)
San Francisco State University Assistant Professor of Chemistry and Biochemistry Misty Kuhn received the prestigious $1.9 million "Maximizing Investigators' Research Award for Early-Stage Investigators" grant from the National Institutes of Health (NIH) in August 2019. Misty is the first woman and second recipient of this award in the CSU's history.
Kuhn's team will work in the new cell culture lab, delving into the shape and functions of proteins used in the fight against disease-causing bacteria. There is currently no space on the SFSU campus that is sterile enough for this work.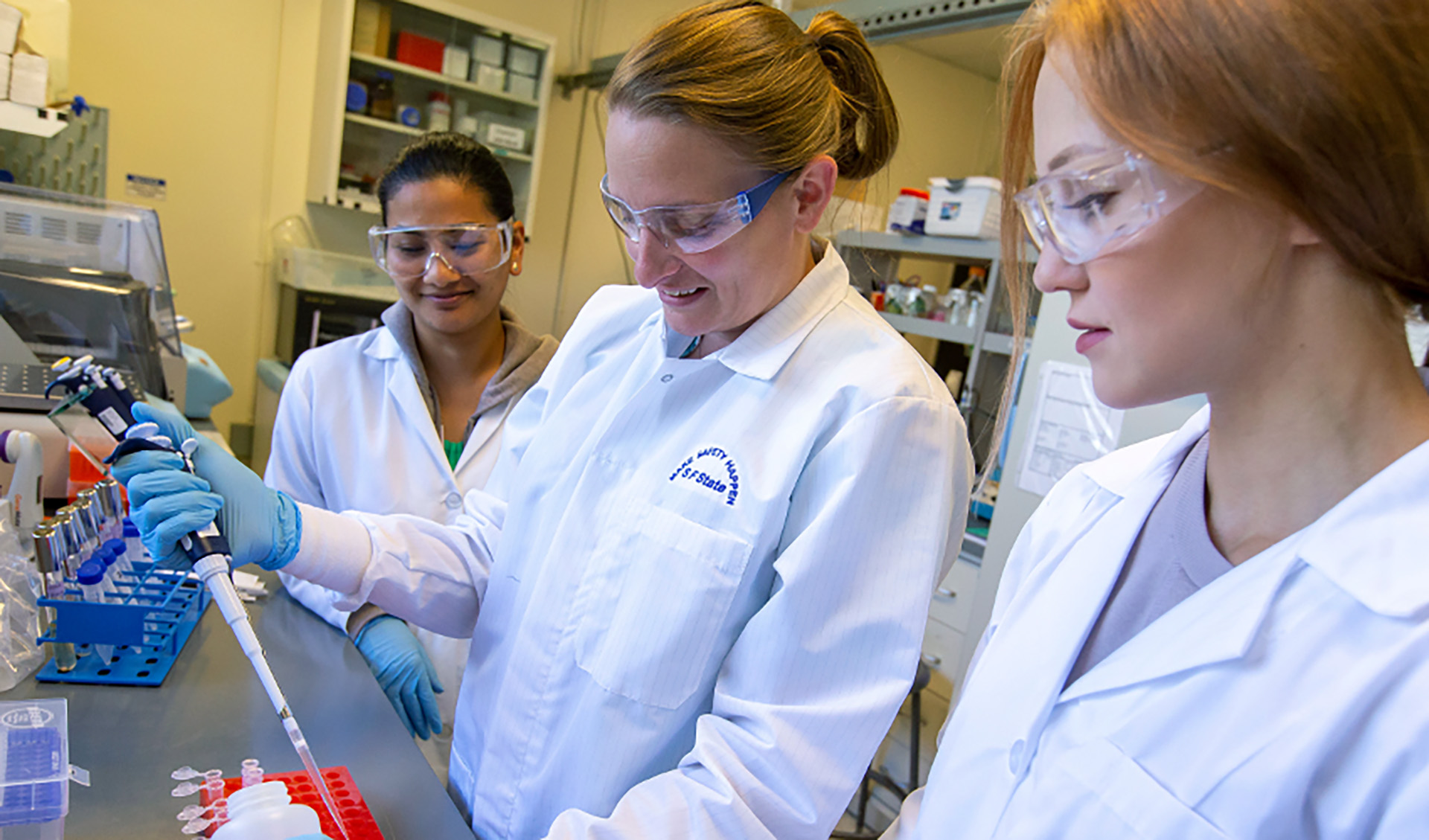 School of Engineering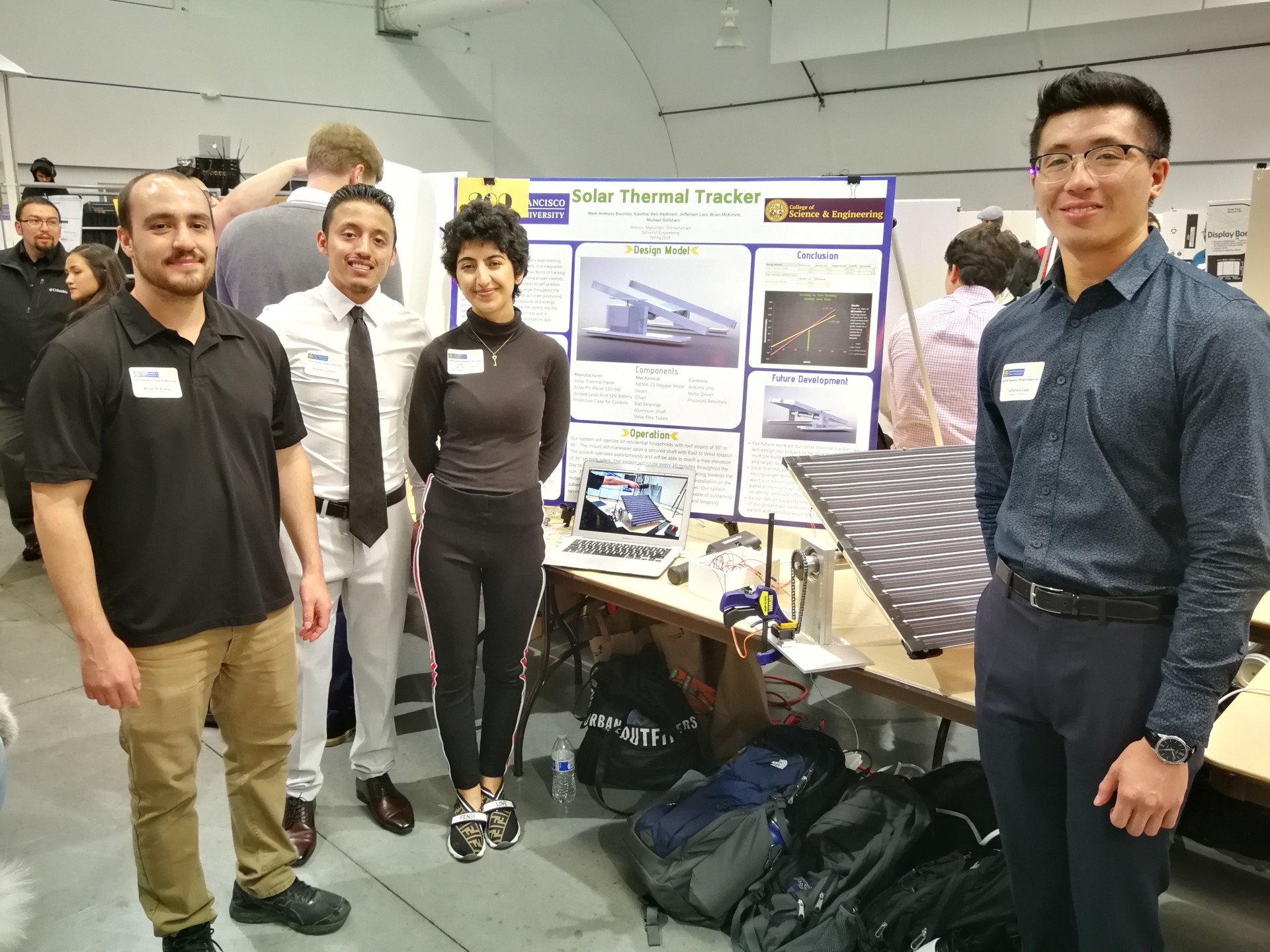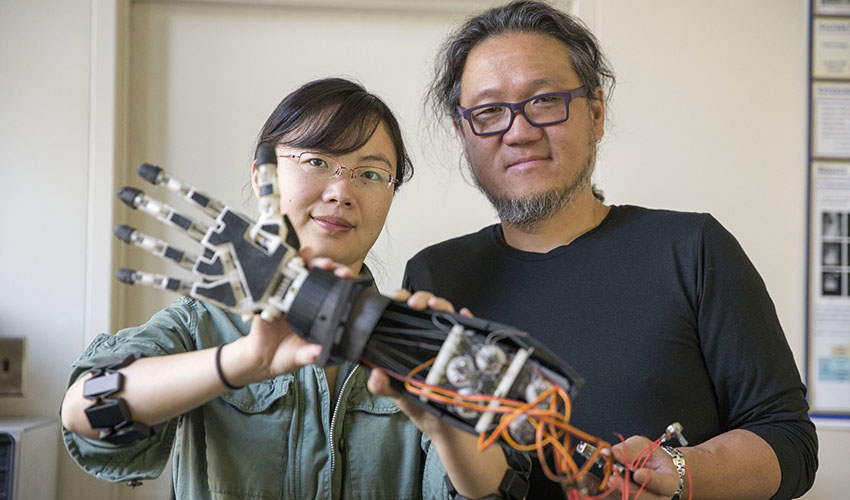 The first floor and top two floors of the Science & Engineering Innovation Center are dedicated to learning spaces, labs, and offices for the School of Engineering, which educates approximately 1,600 students each year.
In 2021, the School of Engineering was ranked 48th out of 220 in U.S. News and World Report's "Best Undergraduate Engineering Program Rankings" listing. The school has grown exponentially in the last ten years and is the only engineering program in the Bay Area that has no GPA requirement for enrollment. It is the only four-year engineering program in San Francisco, and the only CSU north of San Jose to offer several engineering majors, including mechanical engineering and civil engineering.
For the many students living in the East Bay and San Francisco who cannot afford to relocate to attend college, San Francisco State University is the only choice for pursuing an undergraduate engineering degree.
The School of Engineering's diverse faculty is comprised of 22 tenured/tenure-track faculty & 30 lecturers. They include leading academic researchers, senior staff at Bay Area tech companies, tech entrepreneurs, and senior members of government agencies, and are recipients of:
Distinguished teaching awards
National Science Foundation (NSF) CAREER Award
NSF and National Institute of Health (NIH) grants Department of Energy grants
Air Force Research Laboratory grants
California State University (CSU) Faculty Innovation and Leadership Award
American Chemical Society PRF grant
Google Faculty-in-Residence
CoSE Leadership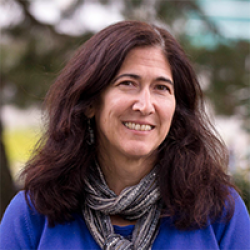 Carmen Domingo, Ph.D. Dean of the College of Science & Engineering
University of California, Berkeley
PhD, Molecular and Cell Biology
University of California, Irvine
BS, Biological Science
After more than 20 years as a faculty member in the Department of Biology, Carmen Domingo, Ph.D. became Dean of the College of Science and Engineering in March 2019. She is the first female to hold the office in the college's history. Dean Domingo is part of a select group: Only 3% of higher education administrators in the U.S. are Hispanic/Latino, according to a 2017 report by the College and University Professional Association for Human Resources. The Science & Engineering Innovation Center expresses Dean Domingo's vision for a robust workforce-ready alumni body and a truly inclusive state-of-the-art program.
"We have a strong record of developing research programs that are accessible to all students, regardless of their starting point, and raising them to a level where they are very competitive for entry into top Ph.D. programs and careers in the sciences and engineering."
– Dean Carmen Domingo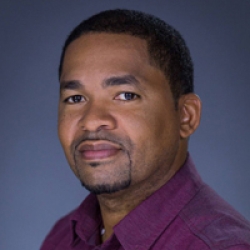 Teaster Baird, Jr. Ph.D. | Chair, Department of Chemistry & Biochemistry
2021 AMERICAN SOCIETY FOR BIOCHEMISTRY
AND MOLECULAR BIOLOGY FELLOW
Ph.D., Biochemistry
Duke University
B.S., Chemistry
Tougaloo College
NIH Minority Access to Research Careers (MARC) scholar
Postdoctoral Scholar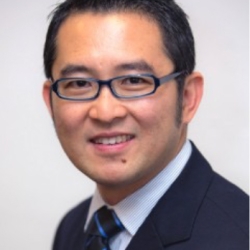 Kwok Siong Teh, Ph.D. | Director, School of Engineering
Ph.D., Mechanical Engineering
University of California Berkeley
M.S., Mechanical Engineering
University of Michigan Ann Arbor
B.S., Mechanical Engineering
University of Illinois, Urbana-Champaign
CoSE ALUMNI PROFILES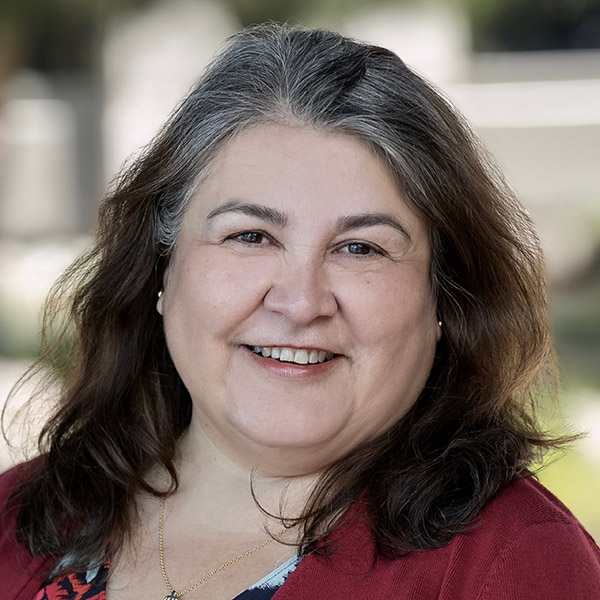 Patricia (Patty) Y. Siguenza (B.S. '87)
After Ms. Siguenza graduated from SF State in 1987 with a B.S. in Clinical/Biomedical Science, she began her career as a Research Associate at Genentech and is now Genenetch's Vice President of BioAnalytical Sciences. Throughout her career, she has made significant contributions to Genentech's product development and approvals in the areas of oncology, autoimmunity, and asthma drugs. She is dedicated to Genentech's commitment to patients and the advancement of science, and currently sits on the Genentech Foundation Board of Directors.
In 2020, The San Francisco Business Times recognized Ms. Siguenza as one of the "Most Influential Women in the Bay Area." The award is bestowed to women who work in diverse fields and share a passion for what they do – women who are leaders in their organizations and communities and are mentors for the next generation of women leaders.
Ms. Siguenza currently sits on the SF State Foundation Board of Directors and also chairs the San Mateo County Community Colleges Foundation Board. At Genentech, Ms. Siguenza sponsors the Development Sciences Rotational Program (DSRP), which gives recent graduates the opportunity to broaden their perspective and train in drug development, people strategy, and manager effectiveness. She mentors and leads the Genentech Research and Early Development's inclusion efforts and is the executive sponsor for VIDA, Genentech's Latino group; and Genentech's Society for Advancement of Chicanos/Hispanics and Native Americans in Science (SACNAS) industry chapter.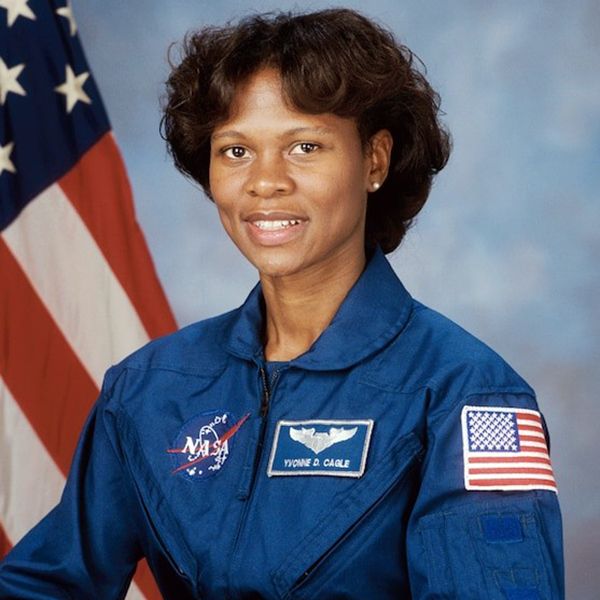 Dr. Yvonne Cagle (B.A. '81)
Dr. Cagle earned her bachelor's degree in chemistry from SF State in 1981 and a medical degree from the University of Washington in 1985. She has been a physician, professor, and U.S. Air Force Colonel. She is currently a NASA Management Astronaut, assigned to the Ames Research Center at Moffett Field in Mountain View. She is one of only six African American female astronauts.
Dr. Cagle's work at NASA includes serving as chief scientist for the Commercial Reusable Suborbital Research program and performing evaluations for lunar and Mars polar-based simulators to validate human physical and neurobehavioral health, performance, and resiliency in deep space exploration. She served as a flight surgeon on various NASA missions and as an occupational physician for NASA's Johnson Space Center. She served as an Air Force medical liaison officer for the Atlantis space shuttle mission and was named to NASA's Astronaut Class of 1996.
She has held faculty positions at several universities and is a recipient of several awards including the National Defense Service Medal, Air Force Achievement Medal, United States Air Force Air Staff Exceptional Physician Commendation, and National Technical Association Distinguished Scientist Award.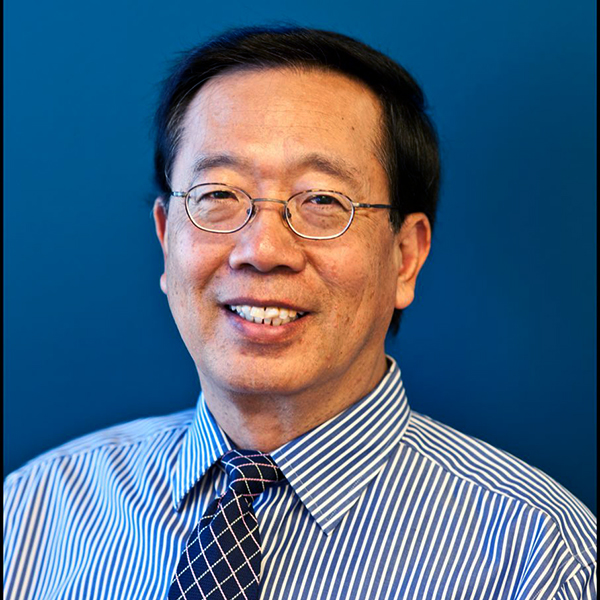 Dr. Kenneth (Ken) S. Fong (B.S. '71, M.A. '74)
Dr. Fong was born in Guangdong province, China, and immigrated to the U.S. when he was 20 years old. He graduated from SF State with a B.S. in Clinical/Biomedical Science in 1971 and returned to the University to receive his MA in Microbiology in 1974. Dr. Fong began his career as a researcher at the National Institutes of Health. In 1984 he founded Clontech Laboratories which develops molecular biology tools that make cutting-edge research in gene cloning, analysis, and mapping possible.
After Clontech was acquired by Becton Dickinson, Dr. Fong founded and became chairman of Kenson Ventures LLC, which specializes in venture financing and strategic consulting to biotech companies. Under his leadership, numerous companies have either been acquired or gone public, such as SA Biosciences (to Qiagen), DHI (to Quidel), Fermentas (to ThermoFisher), Panomics (to Affymetrix), Epitomics (to Abcam), Genewiz (to Brooks Automation), ACD (to Biotechne), Bioform (IPO), Optimer (IPO), TP Therapeutic (IPO), Apexigen (IPO), 
Dr. Fong maintains his role at Kenson and has been affiliated with several boards. He is a member of the Committee of 100 (a membership organization of Chinese Americans dedicated to the spirit of excellence and achievement in America) and is a trustee emeritus of the California State University System. He was SF State's 2006 Alumnus of the Year and was inducted into the Alumni Hall of Fame in 1998. Dr. Fong is a major donor to SF State and supports research in the College of Science of Engineering through his funding of the Kenneth S. Fong Translational Research Fund.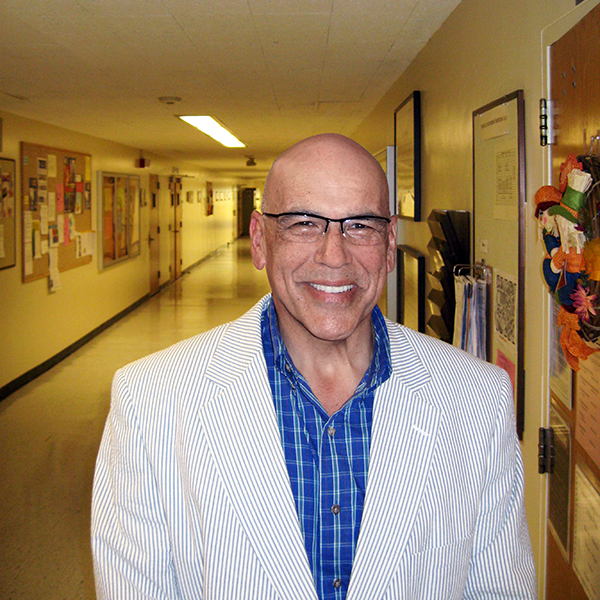 Terrance (Terry) Mancilla (B.S., '72)
After receiving his B.S. in Engineering from SF State in 1972 and his M.Sc. in Engineering from UC Berkeley, Mr. Mancilla enjoyed a long and successful career as an engineer at Hewlett-Packard and Agilent Technologies. After his retirement in 2006, he returned to the CSU and taught engineering courses at SF State and Cal Maritime. Mr. Mancilla is a long-time member of SF State's School of Engineering Advisory Board. 
In appreciation for the education and support he received from the faculty in the School of Engineering, Mr. Mancilla has created an endowed scholarship and laboratory fund with a generous estate gift. "I chose to leave a legacy to SF State because it was a good way to offer today's students the support I believe they deserve," Mr. Mancilla says of his gift. "When I was a student, I had very little free time. Few students did. We were all working, as well as going to school." He hopes that his gift will go in part to assist "working students as a way to alleviate some of their burdens... and allow them to focus on studying."
Contact Associate Vice President of University Development Anjali Billa to learn about naming opportunities and to become a donor to the Science & Engineering Innovation Center: anjalibilla@sfsu.edu or (415) 405-3625.