Catalyzing Our Students' Futures
San Francisco State University's future Science & Engineering Innovation Center will enable cutting-edge, high-level exploration of the physical world and nurture expertise and equity in the STEM fields. Home to the School of Engineering and Department of Chemistry & Biochemistry, the Innovation Center replaces an outdated science building that was built in the 1950s and will feature state-of-the-art research and educational labs, studio-style learning, and workforce-relevant technology. The Innovation Center is due to be completed in 2024 and is a core component of the University's strategy to reinvigorate and update its science and engineering programs to meet the workforce needs of the Bay Area and California STEM industries.
The Science & Engineering Innovation Center is designed to achieve Leadership in Energy and Environmental Design (LEED) Gold certification. Sustainable characteristics include:
100% all-electric building with an active mechanical heat recovery system
25% reduction of storm water runoff from the existing site
High-reflectivity cool roof
High-performance glazing
Low-flow plumbing fixtures
Advanced lighting controls 
California State University has dedicated $150 million to the construction of SF State's new Innovation Center. The University's Catalyze the Future campaign will build on this funding, raising $25 million from private sources to provide leading-edge research equipment and technology in the Innovation Center. Campaign funds will also support student success initiatives and programming in the new facility.
The Science & Engineering Innovation Center: Educating the Workforce of Tomorrow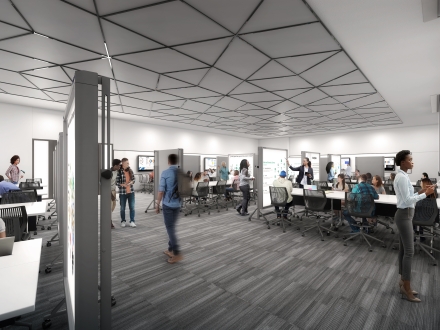 Innovative Design Promoting Curiosity and Facilitating Collaboration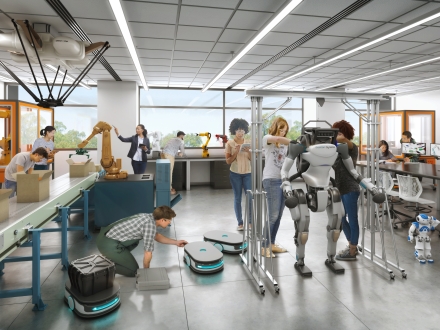 Leading-Edge Science & Engineering Labs and Classrooms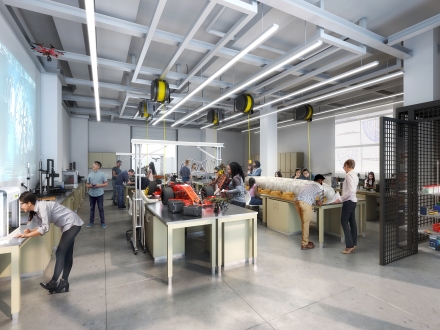 Science on Display: Flexible and Inclusive Classrooms and Research Labs
College of Science & Engineering (CoSE)
CoSE serves a student population that reflects the diversity of the region and includes many international students. The College offers more than 7,300 students an academic experience of "thinking, learning and doing" each year in programs that are designed to encourage and support all students in pursuing careers in science and engineering.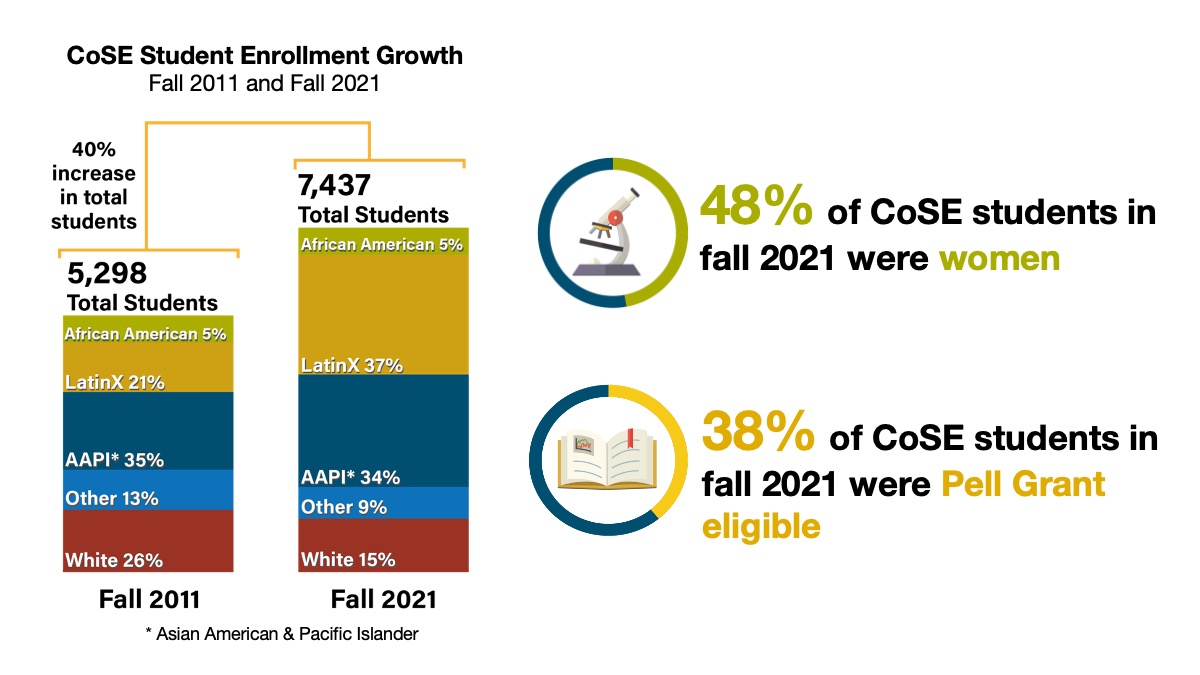 The College of Science & Engineering had a 40% rise in student enrollment between 2011 and 2021. In 2011, the college served 5,298 students, 35% were Asian American & Pacific Islander, 26% were White, 21% were Latina/o/x, 13% were defined as "other" and 5% were African American. In 2021, the college had 7,437 students, with 37% being Latina/o/x, 34% American & Pacific Islander, 15% White, 9% other, and 5% African American. 48% of students in Fall 2021 were women, and 38% of CoSE students in Fall 2021 were Pell Grant eligible.
Contact Associate Vice President of University Development Anjali Billa to learn about naming opportunities and to become a donor to the Science & Engineering Innovation Center: anjalibilla@sfsu.edu or (415) 405-3625.